Lower Left Side Arch
This arch will support the Outer Spiral above the Left Side Small Landing Zone. It spans from Decorative Walls after the Lowest Small-Medium Splitter to the Caret Splitter Right Track.
History:
2021 Jan 25: Mr McGlue has started gluing it in place.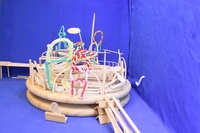 2021 Jan 12: Candy Mama brought the arch up the ramp and will hold it until Mr McGlue can glue it into place.