Triple Splitter Medium Catcher Ridge
This short bamboo wedge prevents the flatness of the Medium Catcher Below Triple Splitter from stalling medium sized marbles. In testing, it appeared this piece will give 100% success rate in reversing the direction of the medium marble after it falls from the Triple Splitter.
History: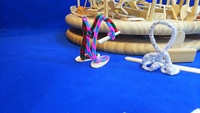 2020 Jun 09: I cut a bamboo piece to keep medium marbles moving after falling through the Triple Splitter.
2020 Jun 09: After determining the piece I cut was too short, I cut a slightly longer, slightly slopier piece which I forgot to photograph before archiving it for the Construction Crew to deliver later.