Lower Zig Zag
The Lower Zig Zag currently has a zig and a zag. I had planned to make it have 3 or 4 zigs and zags, but there simply was not room to have that many back and forth tracks in the (original) vertical space.
But above the original space, there is more space.
History:
May 2019: Now planning to make Lower Zig Zag 3F, a third bar (and another zag) for Lower Zig Zag.
2018 Sep: planning the Lower Zig Zag: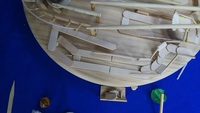 From the top, it will appear in a very narrow zone.
From the side, it will look like this: